Product Overview
Aluminum Silent X Stream Air Blade Air Knives
The X-Stream Air Blade® Air Knife from Nex Flow® is easy to install and maintain. It can reduce both compressed air consumption and noise levels. used to blow off liquid or debris from products as they travel on conveyors.
It produces a "laminar" flow of air using the Coanda effect. This draws a large volume of air from the surrounding area along with the small amount of compressed air from the Air-Blade. It also produces an output flow up to 40 times.
Our air knife systems payback on compressed air savings can be seen in some applications.
Features / Advantages
Quiet – 69 dBA for most applications
Made of Anodized Aluminum, Hard Anodized Aluminum, 303/304 Stainless or 316L Stainless Steel.
40:1 air amplification
Stainless Steel shim
Uniform airflow across entire length
Variable force and flow
No moving parts – maintenance free
Easy mounting
Compact, rugged, easy to install
Stainless steel screws in all models
Videos
How The Silent X-Stream® Air-Blade® Air Knife Works
Compressed air enters the air knife at the rear (or end) ports at (A). Air is entrained at point (B) and (D) by the compressed air stream that leaves the air knife from a small gap at point (C). The entrained air follows the profile that directs the airflow in a perfectly straight line to create a uniform sheet of air along the entire length of the Air Blade® air knife. The amplified air stream maximized velocity and force are maximized as a well-defined sheet of laminar flow with minimal wind shear for reduced energy use in the blow off and cooling.
Performance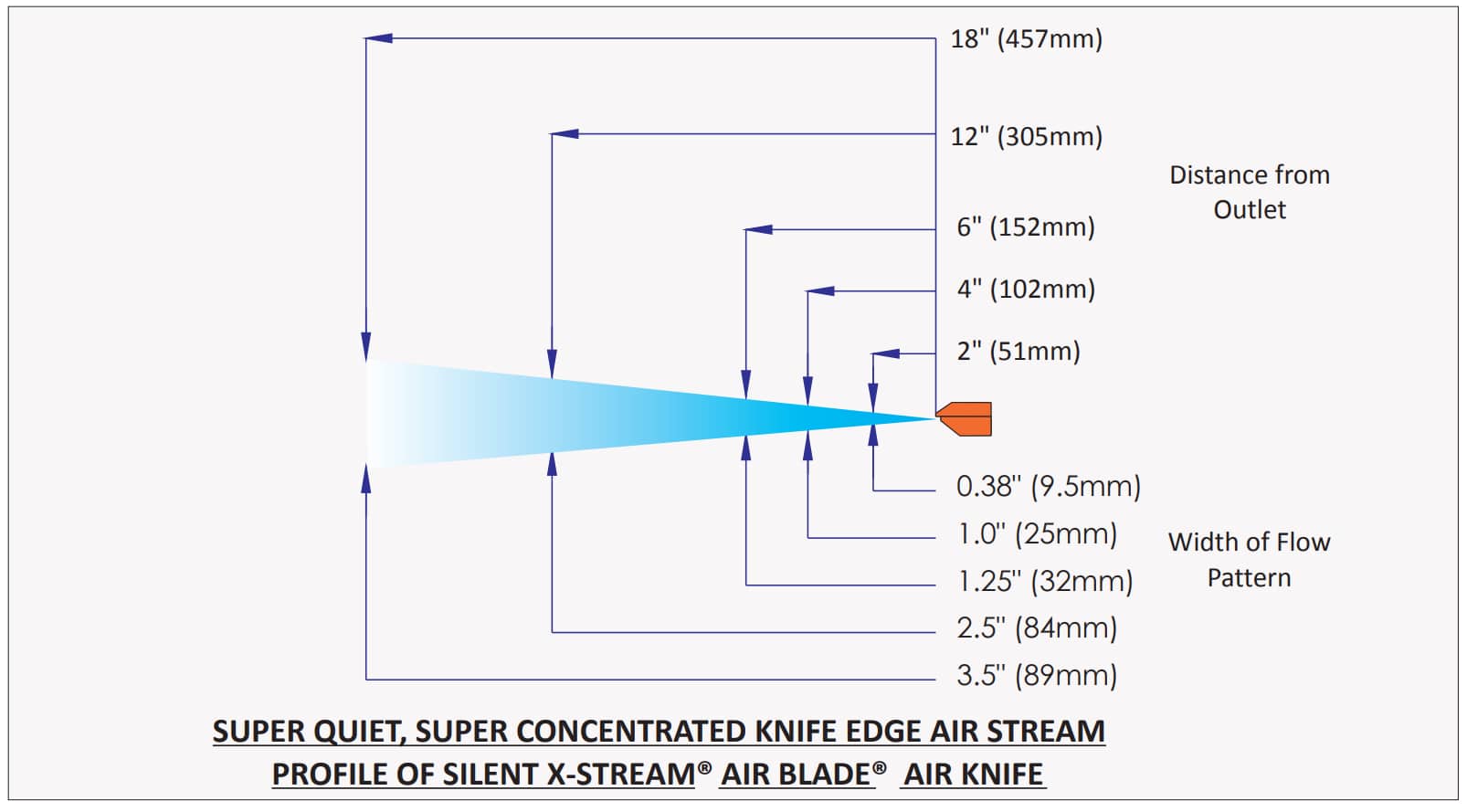 NOTE: Force and Velocity at 6″(152mm) from target.
Sound Level 69 dBA at 80 PSIG (5.5 BAR) for Silent X-Stream® Air Blade® Air Knives
NOTE: Force and Velocity at 6″(152mm) from target.
Dimensions
The Air-Blade® – X-Stream® is available in thirteen (13) standard lengths: 2″ (51mm), 3″ (76mm), 6″ (150mm), 9″ (229mm), 12″ (300mm), 15" (381mm), 18″ (457mm), 24″ (609.5mm), 30″ (761mm), 36″ (914mm), 42" (1067 mm), 48" (1219 mm), 54" (1372 mm)
Special lengths of our X-Stream® Air-Blade® are available on special order including lengths combining several units.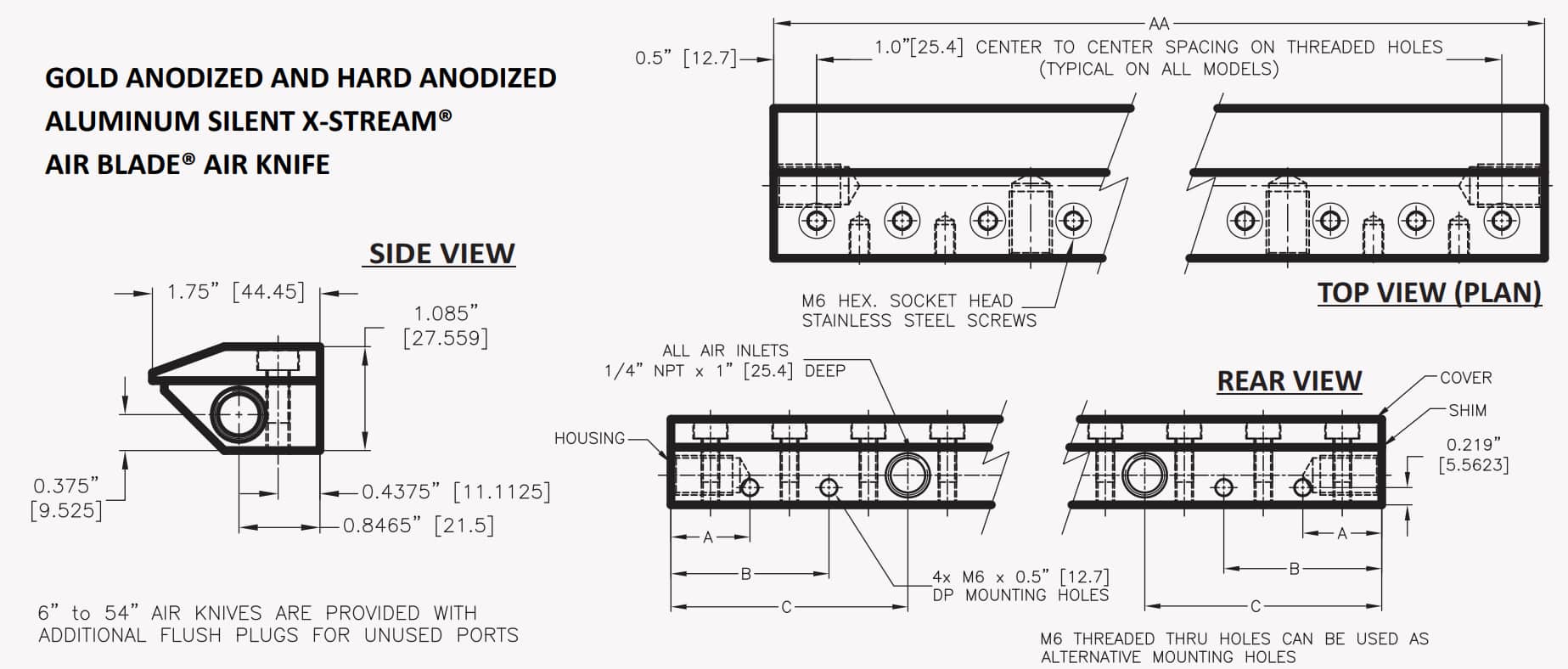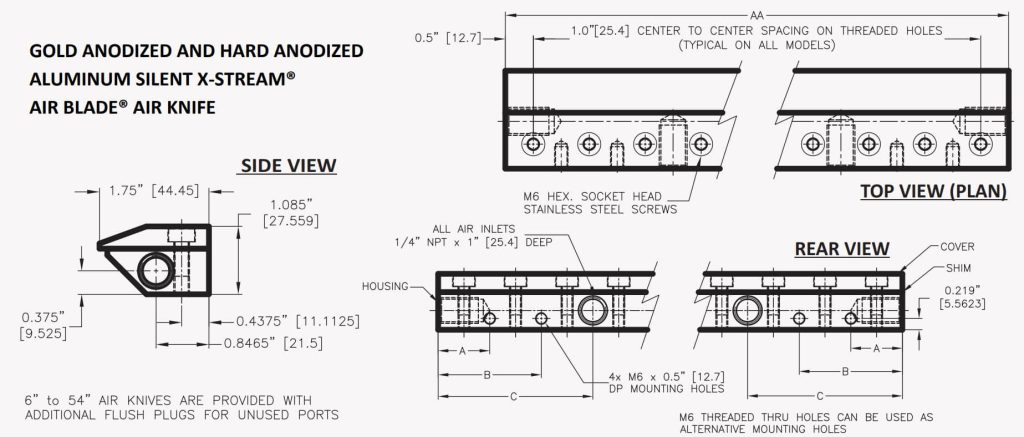 Aluminum Silent X Stream Air Blade Air Knives
| PART NO. | AA Inches (mm) | A Inches (mm) | B Inches (mm) | C Inches (mm) | No. of Rear Inlets (Side Inlets) |
| --- | --- | --- | --- | --- | --- |
| 10002X | 2"(50.8) | N/A | N/A | 1"(25.4) | 1(0) |
| 10003X | 3"(76.2) | .641"(16.3) | N/A | 1.5"(38.1) | 1(0) |
| 10006X | 6"(152) | 1"(25.4) | 2"(50.8) | 3"(76.2) | 1(2) |
| 10009X | 9"(228.6) | 1"(25.4) | 2"(50.8) | 3"(76.2) | 2(2) |
| 10012X | 12"(304.8) | 1"(25.4) | 2"(50.8) | 3"(76.2) | 2(2) |
| 10015X | 15"(381) | 1"(25.4) | 2"(50.8) | 4"(101.6) | 2(2) |
| 10018X | 18"(457.2) | 1"(25.4) | 2"(50.8) | 5"(127.0) | 2(2) |
| 10024X | 24"(609.6) | 1"(25.4) | 2"(50.8) | 6"(152.4) | 2(2) |
| 10030X | 30"(762) | 1"(25.4) | 2"(50.8) | 6"(152.4) | 2(2) |
| 10036X | 36"(914.4) | 1"(25.4) | 2"(50.8) | 6"(152.4) | 2(2) |
| 10042X | 42"(1066.8) | 1"(25.4) | 2"(50.8) | 6"(152.4) | 2(2) |
| 10048X | 48"(1219.2) | 1"(25.4) | 2"(50.8) | 9"(228.6) | 3(2) |
| 10054X | 54"(1371.6) | 1"(25.4) | 2"(50.8) | 9"(228.6) | 3(2) |
Product Overview

Aluminum Silent X Stream Air Blade Air Knives

The X-Stream Air Blade® Air Knife from Nex Flow® is easy to install and maintain. It can reduce both compressed air consumption and noise levels. used to blow off liquid or debris from products as they travel on conveyors.

It produces a "laminar" flow of air using the Coanda effect. This draws a large volume of air from the surrounding area along with the small amount of compressed air from the Air-Blade. It also produces an output flow up to 40 times.

Our air knife systems payback on compressed air savings can be seen in some applications.

Features / Advantages

Quiet – 69 dBA for most applications
Made of Anodized Aluminum, Hard Anodized Aluminum, 303/304 Stainless or 316L Stainless Steel.
40:1 air amplification
Stainless Steel shim
Uniform airflow across entire length
Variable force and flow
No moving parts – maintenance free
Easy mounting
Compact, rugged, easy to install
Stainless steel screws in all models

Videos

How The Silent X-Stream® Air-Blade® Air Knife Works

Compressed air enters the air knife at the rear (or end) ports at (A). Air is entrained at point (B) and (D) by the compressed air stream that leaves the air knife from a small gap at point (C). The entrained air follows the profile that directs the airflow in a perfectly straight line to create a uniform sheet of air along the entire length of the Air Blade® air knife. The amplified air stream maximized velocity and force are maximized as a well-defined sheet of laminar flow with minimal wind shear for reduced energy use in the blow off and cooling.

Performance

NOTE: Force and Velocity at 6″(152mm) from target.

Sound Level 69 dBA at 80 PSIG (5.5 BAR) for Silent X-Stream® Air Blade® Air Knives

NOTE: Force and Velocity at 6″(152mm) from target.

Dimensions

The Air-Blade® – X-Stream® is available in thirteen (13) standard lengths: 2″ (51mm), 3″ (76mm), 6″ (150mm), 9″ (229mm), 12″ (300mm), 15" (381mm), 18″ (457mm), 24″ (609.5mm), 30″ (761mm), 36″ (914mm), 42" (1067 mm), 48" (1219 mm), 54" (1372 mm)

Special lengths of our X-Stream® Air-Blade® are available on special order including lengths combining several units.

Aluminum Silent X Stream Air Blade Air Knives

| PART NO. | AA Inches (mm) | A Inches (mm) | B Inches (mm) | C Inches (mm) | No. of Rear Inlets (Side Inlets) |
| --- | --- | --- | --- | --- | --- |
| 10002X | 2"(50.8) | N/A | N/A | 1"(25.4) | 1(0) |
| 10003X | 3"(76.2) | .641"(16.3) | N/A | 1.5"(38.1) | 1(0) |
| 10006X | 6"(152) | 1"(25.4) | 2"(50.8) | 3"(76.2) | 1(2) |
| 10009X | 9"(228.6) | 1"(25.4) | 2"(50.8) | 3"(76.2) | 2(2) |
| 10012X | 12"(304.8) | 1"(25.4) | 2"(50.8) | 3"(76.2) | 2(2) |
| 10015X | 15"(381) | 1"(25.4) | 2"(50.8) | 4"(101.6) | 2(2) |
| 10018X | 18"(457.2) | 1"(25.4) | 2"(50.8) | 5"(127.0) | 2(2) |
| 10024X | 24"(609.6) | 1"(25.4) | 2"(50.8) | 6"(152.4) | 2(2) |
| 10030X | 30"(762) | 1"(25.4) | 2"(50.8) | 6"(152.4) | 2(2) |
| 10036X | 36"(914.4) | 1"(25.4) | 2"(50.8) | 6"(152.4) | 2(2) |
| 10042X | 42"(1066.8) | 1"(25.4) | 2"(50.8) | 6"(152.4) | 2(2) |
| 10048X | 48"(1219.2) | 1"(25.4) | 2"(50.8) | 9"(228.6) | 3(2) |
| 10054X | 54"(1371.6) | 1"(25.4) | 2"(50.8) | 9"(228.6) | 3(2) |