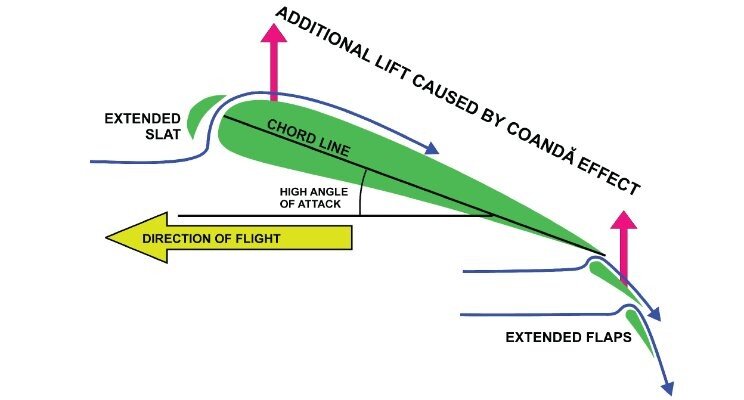 Definition of Coanda effect is: the tendency of a jet of fluid emerging from an orifice to follow an adjacent flat or curved surface and to entrain fluid from the surroundings so that a region of lower pressure develops.
The Coanda Effect was discovered in1930 by the Romanian aerodynamicist Henri-Marie Coanda (1885-1972). He observed that a steam of air (or a other fluid) emerging from a nozzle tends to follow a nearby curved surface, if the curvature of the surface or angle the surface makes with the stream is not too sharp. For example, if a stream of water is flowing along a solid surface which is curved slightly from the stream, the water will tend to follow the surface.
The Coandă effect has important applications in various high-lift devices on aircraft, where air moving over the wing can be "bent down" towards the ground using flaps and a jet sheet blowing over the curved surface of the top of the wing. The bending of the flow results in aerodynamic lift.
And of course it is used in compressed air flow amplification technology to create energy efficient and noise reducing air nozzles jets, amplifiers and air knives used in blow off applications. This has tremendous positive implications for compressed air energy reduction and to meet OSHA standards in compressed air blowoff.
Nex Flow Air Products Corp. specializes in the manufacturer os compressed air products for blowoff, cooling and moving to optimize energy use and safety with compressed air.
Definition of the Coanda Effect