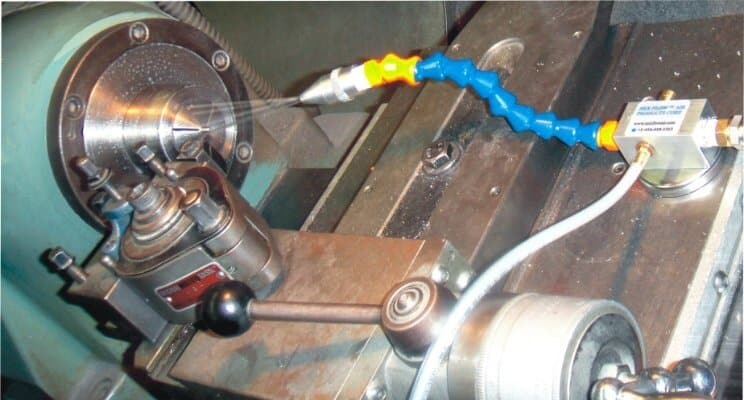 DRY MACHINING AND THE USE OF VORTEX COOLING
In the early 1980s, buying, managing, and disposing of cutting fluids accounted for less than 3 percent of the cost of most machining operations. Today, fluids, including their management and disposal, account for 16 percent of the cost while cutting tools only about 4 percent of the total cost of a machining project. Hence the growth of dry machining.
In dry machining the type and treatment of tooling is very important. You need to use high performance carbide or diamond tools with honed cutting edges. They should have a thermally protected hard surface coating. In addition, a lubrication coating on top of the hard coat is ideal and re-coating after each regrind.
The greatest problem to deal with however is the removal of heat. Shop air is not enough to cool. In 2008 Brian Boswell of the Curtin University of Technology in Australia, in his PHD thesis concluded that the vortex tube was far superior to plain compressed air because it was easier to adjust as the cold air nozzle can be further from the work piece and that it was capable of keeping the work piece just as cool as flood coolant! See: LINK TO ARTICLE ABSTRACT AND ARTICLE PDF
A vortex tube splits shop air into a hot and cold steam and the cold air can supply significant cooling. One patented version utilizing the vortex tube available from Nex Flow Air products Corp. combines it with lubrication for mist cooling and lubrication. But in this case the mist is cooled to about 5 degrees C. This can reduce the amount of lubricant or coolant used by up to 20% adding to an improved environment and reduced cost of liquid. This can be utilized when lubrication is still necessary, otherwise their Tool Cooler is applicable.
Various ranges of Tool Coolers are available depending on the cooling effect required. The company can assist and recommend on the optimum size necessary for the particular project.
While flood coolant is still prevalent, the on-going environmental pressures and growing concerns of younger generations entering the work force as to safety and the environment, drive the movement toward dry machining and away from coolant continues to grow. But overall cost is certainly still to be considered.
Nex Flow Air Products Corp. offers vortex tube technology for cooling as well as air blow off and air moving products that can be used to control and assist in chip removal, with trained representatives worldwide.