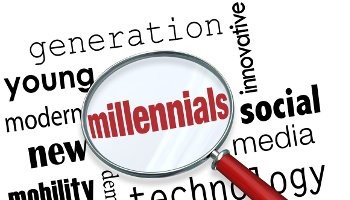 There is a big shift in thinking and therefore the way things are being done in industrial operations with the entry of more and more millennials coming into the workforce. What this means to promotion and reaching out and getting accepted by millennials is dramatic. For example is this story:
One of our Nex Flow representatives wanted to go out of the office and purchase some office supplies. The reasoning was this: he gets out of the office, gets to see what is new, and can shop around to see what might be on sale and see what else is needed. But before he could get out of his desk, his assistant – a millennial had ordered everything on line and the material was delivered the same day. The assistance literally could not see the point of wasting time leaving the office, spending money of gasoline polluting the atmosphere, and looking around when all this could be done on line – it would be "inefficient".
The new industrial customer or prospect looks to technology to procure In surveying many of our sales people the first thing millennial purchasing personnel universal asked was: do you have a web site? And can the product be purchased on line? This means that you better have a web site, it better be friendly and easy to use, and if questions arise during the purchasing process, that questions can be addressed quickly – perhaps with a 24 chat line, or a Q & A section on your product(s). It is known that millennials keep a close network of "connections" where they can ask about your products- so the image you have on line also becomes important. Just throwing up a web site and waiting for orders will no longer work – it has to be easy to use, quick to inform and user friendly.
This "overall efficiency thinking" should may carry throughout the entre industrial process. It is not just improving for example, energy efficiency, but also work environment (noise levels), maintenance issues, and even benefits to the world outside of the factory. Therefore your corporate values become important and needs to be shown.
It is no longer just solving a particular problem, as that can sometimes give rise to new problems. It is a change of focused thinking to a more overall, inclusive approach – an overall benefit. Millennials do think and act differently. Boomers have a difficulty understanding how two millenials standing across form each other in the same room will text each other instead of talking to each other but if one puts themselves into their thinking it suddenly makes more sense. It's all about efficiency – but not just at a small level either – it can be at many levels.
Something to ponder…..