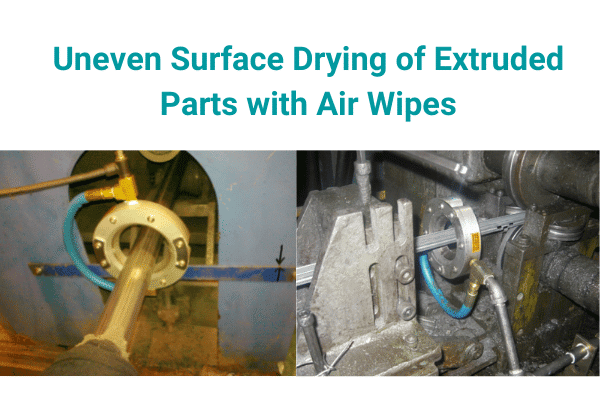 Nex Flow Ring Blade air wipes are popular for drying extruded parts.    Air Wipes in general, have been available for years and are typically designed per application.   Usually, using compressed air (which makes them compact), the energy used has only sometimes been a significant consideration but has become necessary as energy costs increase.
High costs of original designs and energy importance have led to the development of more efficient products like the Nex Flow Ring Blade air wipe.   This product is produced in volume, and the cost per unit has dropped since this design can address numerous applications of different shapes and sizes of extruded material.
The Ring Blade air wipes are available in either anodized aluminum or 316L stainless steel for food or pharmaceutical applications and for high-temperature and corrosive environments.   The air wipes are made in two haves connected and can be opened and closed as necessary to address any bubbled products or other obstructions in the extrusion process.
The Nex Flow Ring Blade air wipe design incorporates the Coanda effect to efficiently entrain atmospheric air and system compressed air to convert energy lost as pressure drop and noise into useful flow and force, reducing the energy needed for any drying application compared to older technology.  Exhaust noise from compressed air is also reduced.
The airflow from the air wipe exists at a 30-degree angle toward the extruded material being passed through the air wipe.  Because of the amplified airflow, the total number of air wipes required can sometimes be reduced in multiple air wipe applications.
Where old technology may have required four units, sometimes only three Nex Flow air wipes would be needed, reducing energy costs further.   It is essential to have the inside diameter of the air wipe close to the surface of the maximum cross-sectional distance passed through the unit.
This is because the point force decreases as you are further from the target of the air.   Sometimes multiple diameters or cross-sectional areas are desired to pass through a given size, and a small part may be dried with a large internal diameter air wipe.   In this instance, the air gap can be increased to increase the overall force, which will also increase air consumption.
Discussing this with a Nex Flow application engineer for the best solution is best.
The Nex Flow design allows the air wipe to be used on add shapes, from rectangular extrusions such as window profiles to EPDM rubber trim used in the automotive industry. The smaller the extrusion diameter, the faster the extrusion speed tends to be.  Wire drawing, for example, can be extremely fast.    Nex Flow designs consider these high speeds in their design.
The smallest practical size to date is a Ring blade air wipe with an inside diameter of 3/8ths inch.  This is a typical size and the ½" version in wire drawing.   If a part is highly complex with tight channels that are hard to reach, Nex Flow-engineered air nozzles can be used before the air wipe to blast out moisture from those tight spots, and then the air wipe can quickly dry.