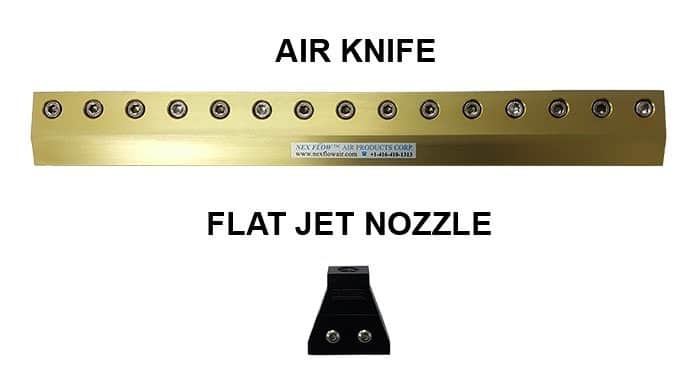 In steel sheet production or other metal sheet production, which is better to use for blow-off? – a series of many small compressed air operated flat jet nozzles or, one or more long compressed air operated air knives? In reality both have been used. Flat jet nozzles, being smaller, will provide a greater blow off force normally. However, air knives can have their force increased by increasing the air gap in the air knife and this often provides enough force for the same application, and indeed have been proven to do so. For this kind of application it means the addition of usually one or more shims to increase the gap.
The factors to consider are as follows:
Cost of Installation and the units: Multiple flat jet nozzles will usually cost more to use and install than one or a few long air knives.
Noise: A "good" air knife may be a little less noisy, even with multiple shims to make the gap bigger. But that depends on the number of shims used in the air knife and flat jet nozzles themselves.
Air Consumption: Depending on the set gap used in the air knives, overall air consumption could be less. This is something that can easily be calculated and determined.
Damage risk: If an air knife is damaged the cost to replace will be more than the cost of replacing a singles or even a few flat jet nozzles. If the risk of damage and replacement is high it skews the decision to flat jet nozzles. If the risk is low, then air knives would be a better choice.
Weighing the importance of these factors in any given situation will lead to the optimum choice for the particular location.