Ultrasonic Leak Detector
US $ 1,200.00
The Flex.US Ultrasonic Leak Detector is a hand-held, high-quality compressed air leak detection system. And it comes with all the features necessary for flexible use in finding costly air leaks.
The FLEX.US ultrasonic leak detector kit comes with the FLEX.US unit, carrying case, and manual. And it utilizes two AA alkaline batteries(included).
The FLEX.US is a complete kit. The high-quality flexible sensor is mounted on the end of a flexible steel pipe. So the ultrasonic sound can access hard-to-reach areas. The unit converts the ultrasonic noise of a leak into sound humans can hear (hissing sound).  And not just some beeping sound or LED display that may not distinguish a leak sound from another phenomenon.
The headset has excellent noise attenuation for use in the noisiest of environments.
A rugged carrying case protects your FLEX.US when not in use.
The FLEX.US is a solid tool – built to last, it is easy to use, and will provide many years of service.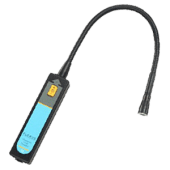 The Flex.US Ultrasonic Leak Detector has a sensor on the end of a flexible pipe to detect leaks in difficult-reach areas.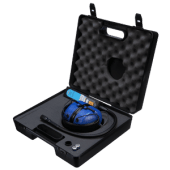 The Ultrasonic Leak Detector comes in a handy carrying case to store the unit and quality headphones. The headphones are durable and high quality to cut out extraneous noise that would make it difficult to detect leaks.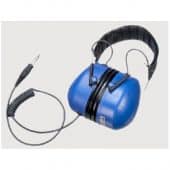 Quality headphones block out plant noise to make it easy to listen for and locate an air leak with the Flex.US system.