Product Overview
The Nex Flow® X-Stream® Air Scrub Nozzle is ideal when dealing with certain cleaning and drying applications where more turbulent air is required and for scrubbing action. It is important to note that it is NOT an airflow-amplifying product but its single nozzle design and operation minimizes compressed air use.
The Nex Flow® X-Stream® Air Scrub Nozzle consists of a nozzle that rotates around a chamber that minimizes the use of compressed air (only one nozzle) but covers the area enclosed by the chamber. There are two sizes: 1-1/4"and 2". As the exiting air is more turbulent it has less force at a distance but the rotation creates a pulse action to "scrub" and surface clean to compensate. Basically, you have a pulse without a pulse valve and without the pressure loss that needs to be addressed and accounted for with pulse valves.
As it is one nozzle it is also possible to have instant on/off
Two annual sizes available: 1-1/4" effective exit air diameter and 1-3/4" effective exit air diameter
Applications:
Where cleaning or drying must be done on a surface that is not secured on a stand or moving conveyor. The scrubbing action removes dirt and moisture without moving the product
Cleaning a surface that requires a scrubbing action to remove debris such as mud, powders, and other material stuff on mesh screens, or surfaces that need a "pulse" to loosen material.
Features / Advantages
No electricity
Low air consumption
Scrubbing action
Low moving force when required
Compact, lightweight and portable
Instant on/off
Performance
Nex Flow X-Stream® Air Scrub Nozzles come in two sizes depending on the area that needs to be dried or cleaned. The nozzle assembly is guaranteed to last for 3000 operating hours at which time it should be replaced.
Model ASN1 : Air Consumption at 80 PSIG: 10 SCFM – effective area for blow off – 1-1/4"
Model ASN2 : Air Consumption at 80 PSIG: 10 SCFM – effective area for blow off – 1-3/4"
Dimensions

Model ASN1 1-1/4″ Air Scrub nozzle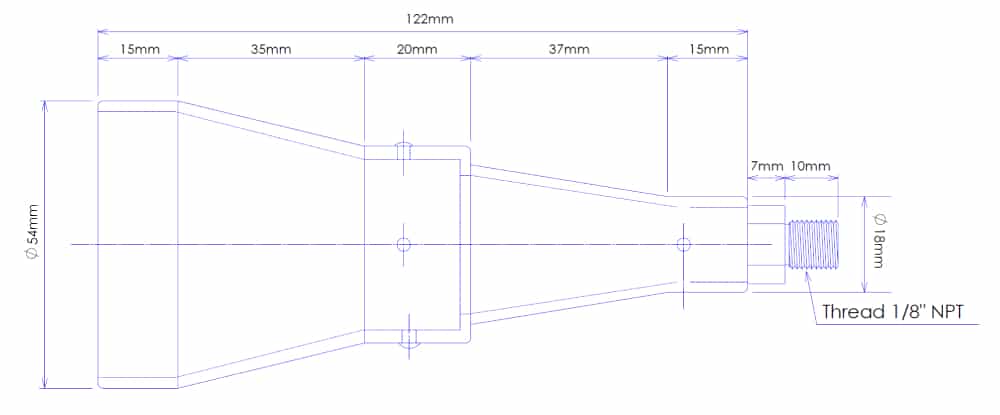 Model ASN2 1-3/4″ Air scrub nozzle
Manifold systems: CONTACT NEX FLOW FOR PRICING
Product Overview

The Nex Flow® X-Stream® Air Scrub Nozzle is ideal when dealing with certain cleaning and drying applications where more turbulent air is required and for scrubbing action. It is important to note that it is NOT an airflow-amplifying product but its single nozzle design and operation minimizes compressed air use.

The Nex Flow® X-Stream® Air Scrub Nozzle consists of a nozzle that rotates around a chamber that minimizes the use of compressed air (only one nozzle) but covers the area enclosed by the chamber. There are two sizes: 1-1/4"and 2". As the exiting air is more turbulent it has less force at a distance but the rotation creates a pulse action to "scrub" and surface clean to compensate. Basically, you have a pulse without a pulse valve and without the pressure loss that needs to be addressed and accounted for with pulse valves.

As it is one nozzle it is also possible to have instant on/off

Two annual sizes available: 1-1/4" effective exit air diameter and 1-3/4" effective exit air diameter

Applications:

Where cleaning or drying must be done on a surface that is not secured on a stand or moving conveyor. The scrubbing action removes dirt and moisture without moving the product
Cleaning a surface that requires a scrubbing action to remove debris such as mud, powders, and other material stuff on mesh screens, or surfaces that need a "pulse" to loosen material.

Features / Advantages

No electricity
Low air consumption
Scrubbing action
Low moving force when required
Compact, lightweight and portable
Instant on/off

Performance

Nex Flow X-Stream® Air Scrub Nozzles come in two sizes depending on the area that needs to be dried or cleaned. The nozzle assembly is guaranteed to last for 3000 operating hours at which time it should be replaced.

Model ASN1 : Air Consumption at 80 PSIG: 10 SCFM – effective area for blow off – 1-1/4"

Model ASN2 : Air Consumption at 80 PSIG: 10 SCFM – effective area for blow off – 1-3/4"

Dimensions

Model ASN1 1-1/4″ Air Scrub nozzle

Model ASN2 1-3/4″ Air scrub nozzle

Manifold systems: CONTACT NEX FLOW FOR PRICING