Product Overview
One of the biggest issues that continues to grow in importance is noise levels in manufacturing operations. Noise studies on health consistently indicate that damage can be temporary or permanent. Most advanced countries have strict standards on how long a worker can be exposed to noise.
For example, in the USA the amount of time allowed to be exposed to certain noise levels measured in dBA is as follows:
| Noise level in dBA | Exposure time allowed |
| --- | --- |
| 90 dBA | 8 hr |
| 95 dBA | 4 hr |
| 100 dBA | 2 hr |
| 105 dBA | 1 hr |
| 110 dBA | 30 min |
In fact, anything over 85 dBA is considered dangerous by many company standards. Noise reduction headphones are generally mandatory in many operations where loud noise is prevalent, or at the very least plastic air plugs. Compressed air exhaust air is a major source of noise and this is a big reason why noise reducing products such as amplifying air nozzles , air knives and air amplifiers are used.
The X-Stream® Sound Level Meter is used to measure and monitor the sound level in all types of industrial environments. Used for compressed air exhaust noise measurement, it can identify areas where costly and inefficient blow off can be replaced by energy efficient Nex Flow® blow off products. In many instances, noise may be reduced by amplification products as much as 10 dBA, to protect workers from excessive and damaging noise levels and reduce energy use.
The basic unit is handheld and is very accurate, more so than utilizing phone apps. The larger system with data collection can identify noise problem areas that may be intermittent to properly address them.
Features / Advantages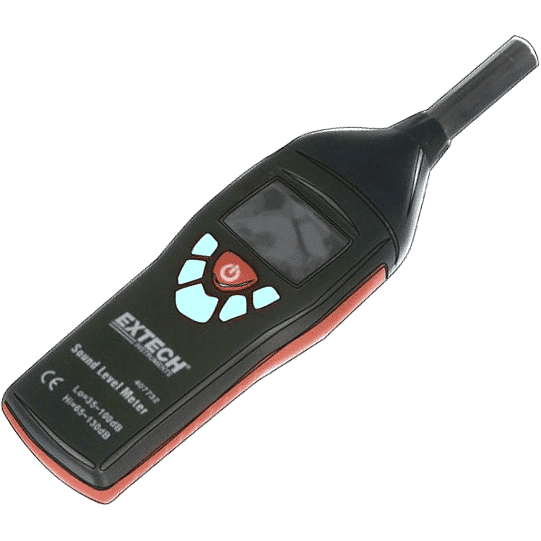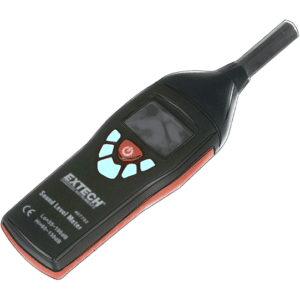 High accuracy meets ANSI and IEC 651 type 2 standards
High and Low measuring ranges
Data Hold and Max Hold functions
Backlit display to view in dimly lit area
Complete with microphone windscreen and 9V Battery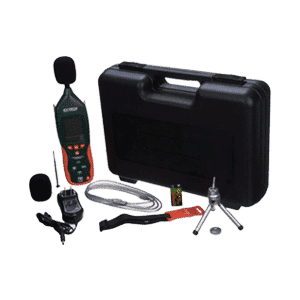 30 to 130 dBA range with 1.4 dBA accuracy
Meets ANSI and IEC61672-1 Type 2 standards
Data logging capability up to 20,000 records at speed from 1/sec to 1/59sec
Capture up to 10 reading/sec when connected to a PC
MIN/MAX, Data Hold, Auto power off
Built-in USB port, double molded housing with built-in stand
Complete with AC adaptor, Windows® compatible software, USB cable, wind cover, tripod, 9V battery and
hard carrying case
Specifications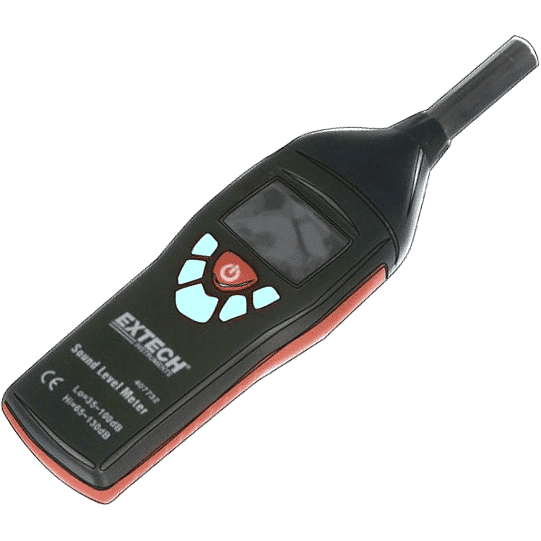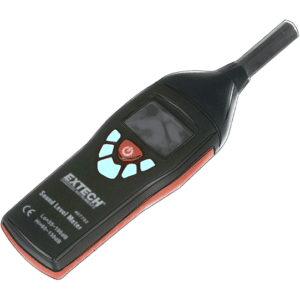 Display Counts 2000 count LCD
Range Low: 35 to 100 dBA
High: 65 to 130 dBA
Basic Accuracy ±1.5 dBA
Weighting (A & C) Yes
Response Time (Fast/Slow) Yes
Condenser Microphone 0.5″ (12.7 mm)
Dimensions 8.2×2.1×1.25″ (210x55x32 mm)
Weight 8.1 Oz (230 gm)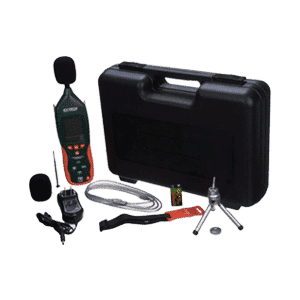 Range 30 to 130 dBA
Basic accuracy ±1.4 dBA
Weighting A and C
Response Time Fast/Slow
Analog Output AC/DC
Data logging 20,000 points
PC Interface USB
Dimensions 10.9 x 3 x 2″ (278 x 76 x 50 mm)
Weight 12.3 Oz (350 gm)
Product Overview

One of the biggest issues that continues to grow in importance is noise levels in manufacturing operations. Noise studies on health consistently indicate that damage can be temporary or permanent. Most advanced countries have strict standards on how long a worker can be exposed to noise.

For example, in the USA the amount of time allowed to be exposed to certain noise levels measured in dBA is as follows:

| Noise level in dBA | Exposure time allowed |
| --- | --- |
| 90 dBA | 8 hr |
| 95 dBA | 4 hr |
| 100 dBA | 2 hr |
| 105 dBA | 1 hr |
| 110 dBA | 30 min |

In fact, anything over 85 dBA is considered dangerous by many company standards. Noise reduction headphones are generally mandatory in many operations where loud noise is prevalent, or at the very least plastic air plugs. Compressed air exhaust air is a major source of noise and this is a big reason why noise reducing products such as amplifying air nozzles , air knives and air amplifiers are used.

The X-Stream® Sound Level Meter is used to measure and monitor the sound level in all types of industrial environments. Used for compressed air exhaust noise measurement, it can identify areas where costly and inefficient blow off can be replaced by energy efficient Nex Flow® blow off products. In many instances, noise may be reduced by amplification products as much as 10 dBA, to protect workers from excessive and damaging noise levels and reduce energy use.

The basic unit is handheld and is very accurate, more so than utilizing phone apps. The larger system with data collection can identify noise problem areas that may be intermittent to properly address them.

Features / Advantages

High accuracy meets ANSI and IEC 651 type 2 standards
High and Low measuring ranges
Data Hold and Max Hold functions
Backlit display to view in dimly lit area
Complete with microphone windscreen and 9V Battery

30 to 130 dBA range with 1.4 dBA accuracy
Meets ANSI and IEC61672-1 Type 2 standards
Data logging capability up to 20,000 records at speed from 1/sec to 1/59sec
Capture up to 10 reading/sec when connected to a PC
MIN/MAX, Data Hold, Auto power off
Built-in USB port, double molded housing with built-in stand
Complete with AC adaptor, Windows® compatible software, USB cable, wind cover, tripod, 9V battery and
hard carrying case

Specifications

Display Counts 2000 count LCD
Range Low: 35 to 100 dBA
High: 65 to 130 dBA
Basic Accuracy ±1.5 dBA
Weighting (A & C) Yes
Response Time (Fast/Slow) Yes
Condenser Microphone 0.5″ (12.7 mm)
Dimensions 8.2×2.1×1.25″ (210x55x32 mm)
Weight 8.1 Oz (230 gm)

Range 30 to 130 dBA
Basic accuracy ±1.4 dBA
Weighting A and C
Response Time Fast/Slow
Analog Output AC/DC
Data logging 20,000 points
PC Interface USB
Dimensions 10.9 x 3 x 2″ (278 x 76 x 50 mm)
Weight 12.3 Oz (350 gm)