Product Overview
All Nex Flow® products used for blow off, cooling, moving, and cooling – whether it is nozzles, air amplifiers, air operated conveyors, vortex tubes, panel coolers, tool coolers, etc. – require clean compressed air. So it is important to use filters to remove water and oil from the compressed air lines prior to entering the product. Filters are installed upstream from the particular product.
We recommend filters of a minimum of 10 microns for water removal and 0.3 microns for oil removal if lubricating oil is used in the air lines. In most cases they should have a float type automatic drain to ensure accumulated waste is rejected form the system. Normally a small water removal filter with manual drain is supplied with Tool Coolers 15 SCFM range and under.
Air filters should be sized to handle the maximum air flow expected for the blow off, conveying, or cooling apparatus for which they are used. Nex Flow® water and oil removal filters are 5 microns and 0.3 microns respectively. .
There are two special "separators" offered by Nex Flow® that can augment, or even replace in many cases, standard water and oil removal filters. They are the Super Separator units. These special point of use separators are ideal for compressed air systems with severe water and/or oil issues and can eliminate or at least reduce the load on traditional cartridge filters.
Regardless of whether you utilize the filters above, the special separators, or your own filters which may be standardized in your manufacturing facility, filtration is important for maintaining the effective and optimum operation of all Nex Flow® air operated products.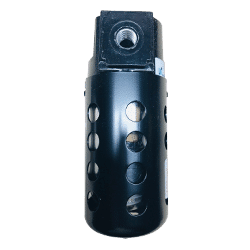 Model 90001
Filter wi auto drain, 5 micron, 65 SCFM plastic bowl with guard 3/8″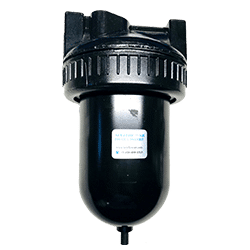 Model 90002
Filter wi auto drain, 5 micron. 220 SCFM metal bowl w siteglass 3/4″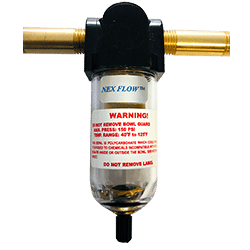 Model 90003
Filter wi. Manual drain, plastic bowl, 27 SCFM 1/4″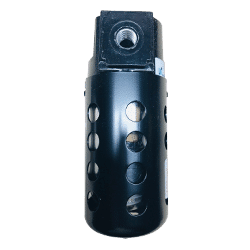 Model 90004
Filter wi auto drain, 5 micron. 43 SCFM , plastic bowl 1/4″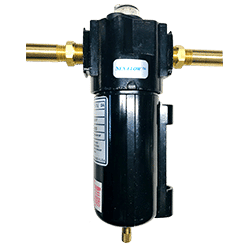 Model 90005
Oil Removal Filter wi. Auto drain, 37 SCFM 3/8″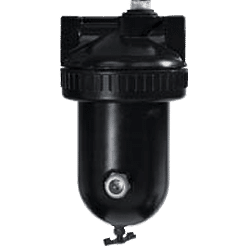 Model 90006
Oil Removal Filter wi. Auto drain, 150 SCFM 3/4″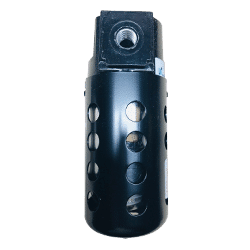 Model 90007
NEMA 4X Filter wi. Auto drain, 5 micron, 1/4″ NPT
Pneumatic Water and Oil Separator
The newly developed "Liquid Super Separator" is a new concept of a pneumatic mist remover without filter element. The "Element Free Pneumatic Water Separator" uses a special centrifugal technique with "radial multi-nozzles" that is world patent pending and makes it possible to reject liquid mist (water and oil) to 99.9%! This pneumatic mist separator is virtually maintenance free, as there is no need to replace any filter element. A standard traditional filter with an element and automatic drain may be placed downstream to control micron size but the high liquid and mist removal of the separator will keep it clean and it may not require element replacement for an extended period of time. Maintains extremely low pressure drop.
Dimensions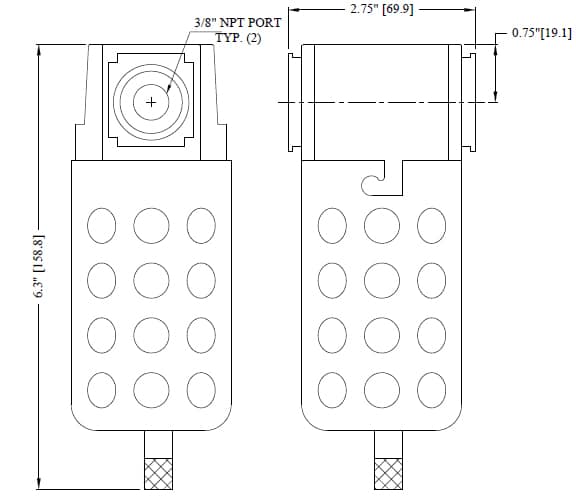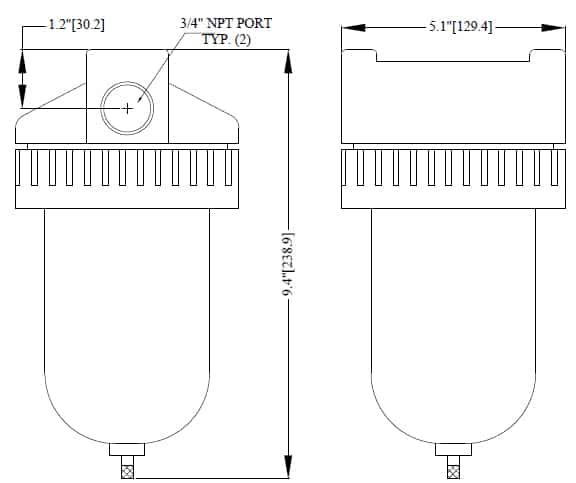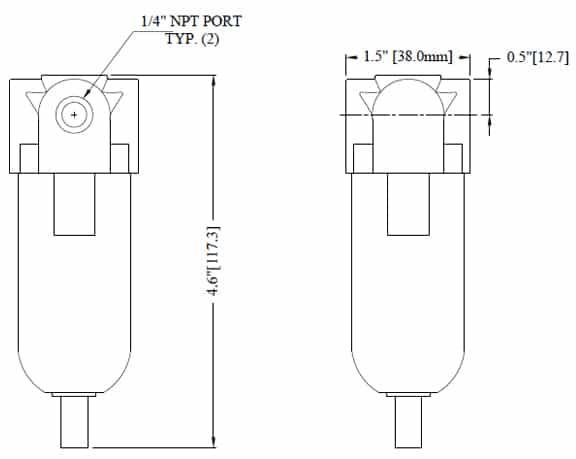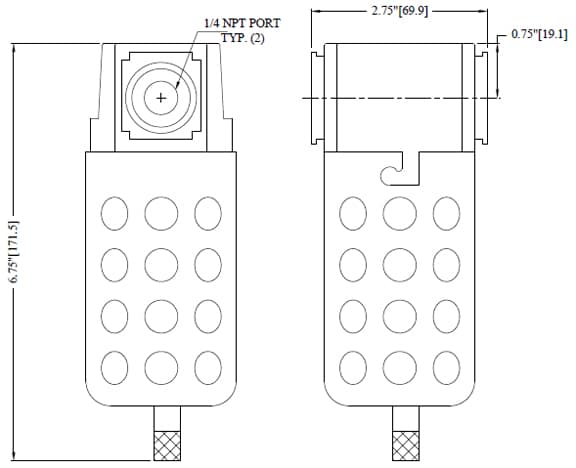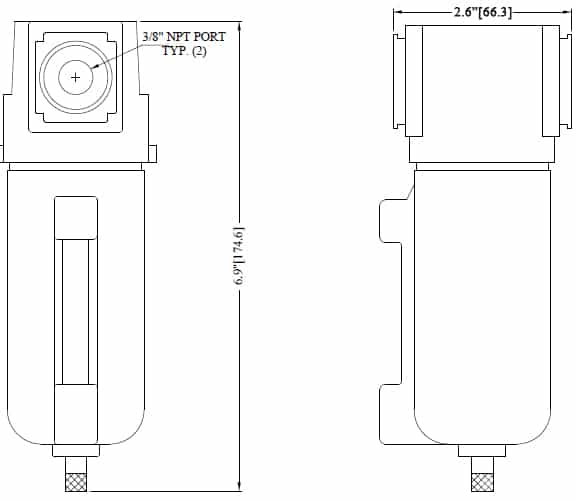 Product Overview

All Nex Flow® products used for blow off, cooling, moving, and cooling – whether it is nozzles, air amplifiers, air operated conveyors, vortex tubes, panel coolers, tool coolers, etc. – require clean compressed air. So it is important to use filters to remove water and oil from the compressed air lines prior to entering the product. Filters are installed upstream from the particular product.

We recommend filters of a minimum of 10 microns for water removal and 0.3 microns for oil removal if lubricating oil is used in the air lines. In most cases they should have a float type automatic drain to ensure accumulated waste is rejected form the system. Normally a small water removal filter with manual drain is supplied with Tool Coolers 15 SCFM range and under.

Air filters should be sized to handle the maximum air flow expected for the blow off, conveying, or cooling apparatus for which they are used. Nex Flow® water and oil removal filters are 5 microns and 0.3 microns respectively. .

There are two special "separators" offered by Nex Flow® that can augment, or even replace in many cases, standard water and oil removal filters. They are the Super Separator units. These special point of use separators are ideal for compressed air systems with severe water and/or oil issues and can eliminate or at least reduce the load on traditional cartridge filters.

Regardless of whether you utilize the filters above, the special separators, or your own filters which may be standardized in your manufacturing facility, filtration is important for maintaining the effective and optimum operation of all Nex Flow® air operated products.

Model 90001

Filter wi auto drain, 5 micron, 65 SCFM plastic bowl with guard 3/8″

Model 90002

Filter wi auto drain, 5 micron. 220 SCFM metal bowl w siteglass 3/4″

Model 90003

Filter wi. Manual drain, plastic bowl, 27 SCFM 1/4″

Model 90004

Filter wi auto drain, 5 micron. 43 SCFM , plastic bowl 1/4″

Model 90005

Oil Removal Filter wi. Auto drain, 37 SCFM 3/8″

Model 90006

Oil Removal Filter wi. Auto drain, 150 SCFM 3/4″

Model 90007

NEMA 4X Filter wi. Auto drain, 5 micron, 1/4″ NPT

Pneumatic Water and Oil Separator

The newly developed "Liquid Super Separator" is a new concept of a pneumatic mist remover without filter element. The "Element Free Pneumatic Water Separator" uses a special centrifugal technique with "radial multi-nozzles" that is world patent pending and makes it possible to reject liquid mist (water and oil) to 99.9%! This pneumatic mist separator is virtually maintenance free, as there is no need to replace any filter element. A standard traditional filter with an element and automatic drain may be placed downstream to control micron size but the high liquid and mist removal of the separator will keep it clean and it may not require element replacement for an extended period of time. Maintains extremely low pressure drop.

Dimensions