Product Overview
One special item which is included in the air operated conveyor section but is NOT a venturi unit, is the Nex Flow® Fume and Dust Extraction System. In many factory operations a small, portable fume extraction system operating with a small amount of compressed air can be much easier to use than more costly, heavier electrically operated units especially for soldering applications and spot welding operations where a small, portable unit is required. All that is needed is a source of a small amount of compressed air.
The Nex Flow® Fume and Dust Extraction System consists of the Nex Flow® Adjustable Air Amplifier, with a specially designed 2" loc-line hose, which draws in a large volume and is ideal to draw in dust and fumes into the system. The amplifier is mounted onto a magnetic base that easily attaches to a metal working table to secure the unit. A hose can be clamped onto the outlet of the amplifier to take the fumes and dust into a container or out to another area.
The Nex Flow® Fume and Dust Extraction System is low cost and durable. If the removed fumes and dust do need to be moved a long distance away from the unit, (more than 10 feet or 3 meters), then a Ring Vac® can be added to convey away the collected material. It is also operated by compressed air.
The Model 40002FMS STREAM VAC® is a versatile and affordable compact air cleaning system for the removal of fumes, dust and other air pollution from workstations without the need for heavy and bulky machinery. When hooked up to a 2" hose up to 10 feet (3 meters) and connected to a compressed air line, it will remove up to several hundred cubic feet of air while using only a minimal amount of compressed air, taking with it welding and soldering fumes, particulate from local grinding operations, smoke and particulate from almost any "spot" application
Features / Advantages
No moving parts.
Driven by air Not electricity.
Compact and Portable – easy to install.
Maintenance Free
Safe – No Electricity
Easy Installation
Portable
Videos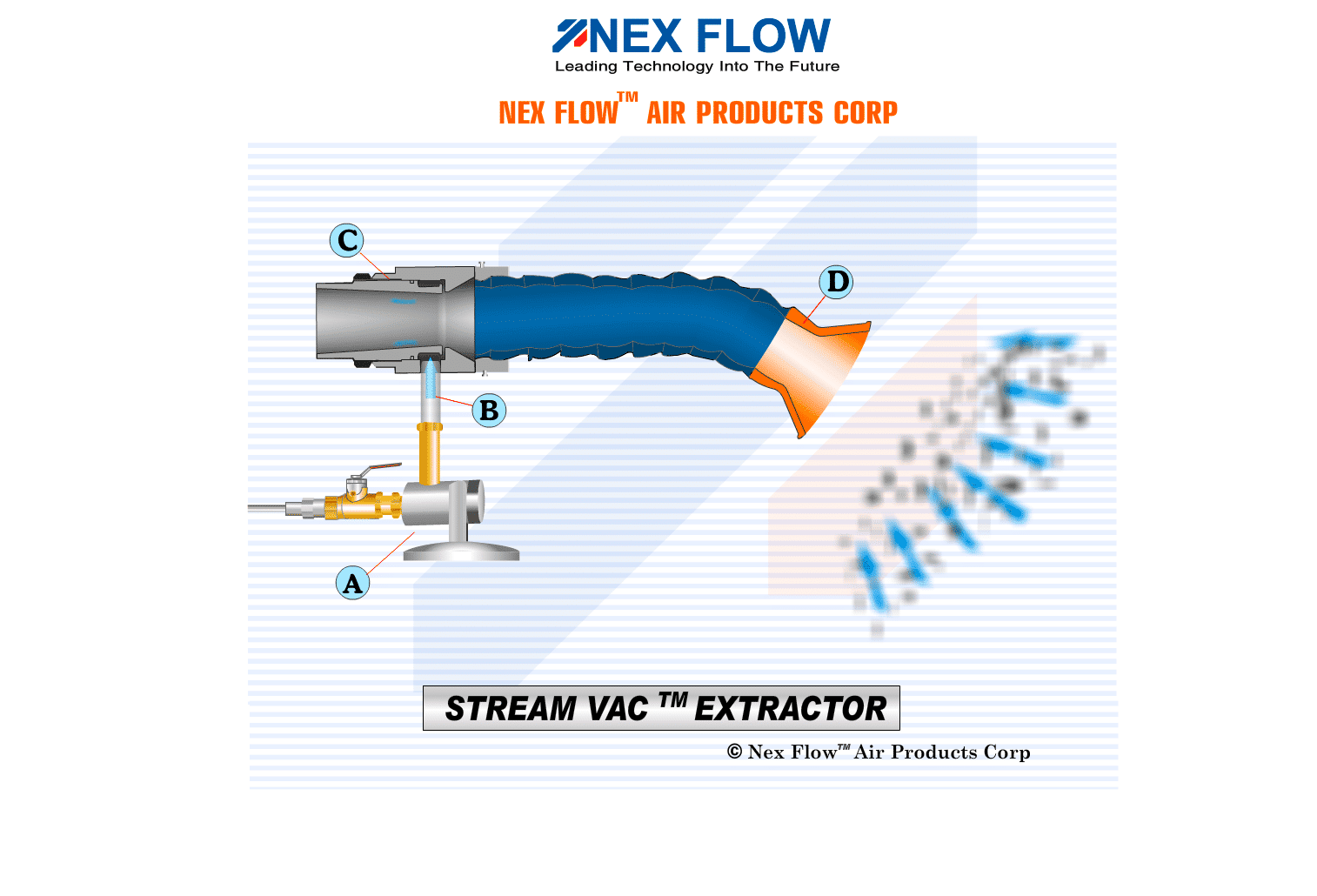 How The Stream Vac® Extractor Works
It is best used at any workbench location with a base that will support the strong magnetic "swivel" base (A) for a flexible position of the system. Compressed air is piped in at point (B) on the air amplifier (which is also adjustable to control the suction). Fumes, smoke and particulate enter at (C) and a 2" hose (Customer supplied) at (D) takes the material to a safe location. Three different suction attachments are available. Manual shutoff valve included.
Performance
| | |
| --- | --- |
| Flow Rate @ 80 psig (5.5 bar) | 20 scfm 567 slpm |
| Inlet Size | 3/8 in. NPT |
| Air Removal Rate | Up to several hundred cubic feet |
Dimensions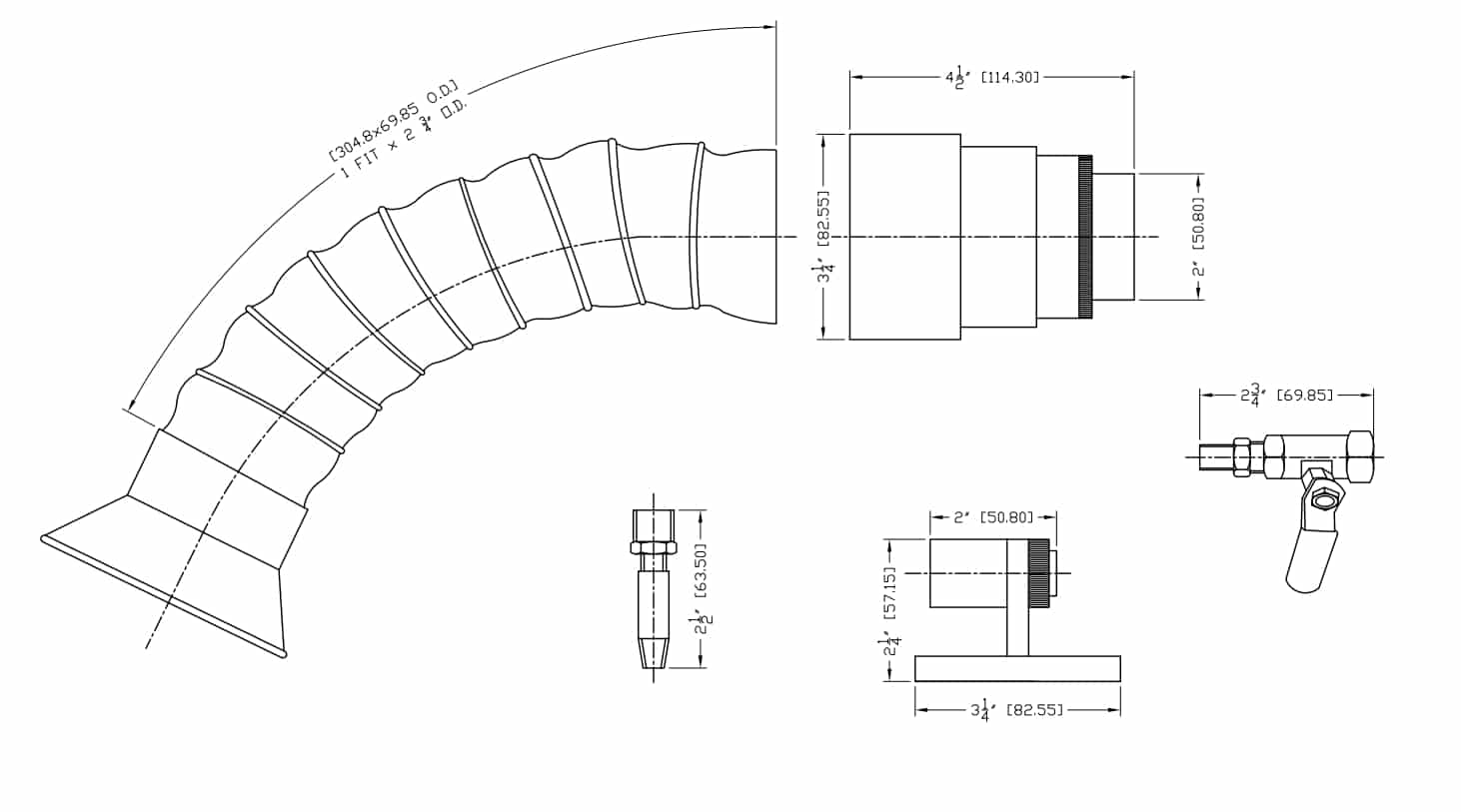 Product Overview

One special item which is included in the air operated conveyor section but is NOT a venturi unit, is the Nex Flow® Fume and Dust Extraction System. In many factory operations a small, portable fume extraction system operating with a small amount of compressed air can be much easier to use than more costly, heavier electrically operated units especially for soldering applications and spot welding operations where a small, portable unit is required. All that is needed is a source of a small amount of compressed air.

The Nex Flow® Fume and Dust Extraction System consists of the Nex Flow® Adjustable Air Amplifier, with a specially designed 2" loc-line hose, which draws in a large volume and is ideal to draw in dust and fumes into the system. The amplifier is mounted onto a magnetic base that easily attaches to a metal working table to secure the unit. A hose can be clamped onto the outlet of the amplifier to take the fumes and dust into a container or out to another area.

The Nex Flow® Fume and Dust Extraction System is low cost and durable. If the removed fumes and dust do need to be moved a long distance away from the unit, (more than 10 feet or 3 meters), then a Ring Vac® can be added to convey away the collected material. It is also operated by compressed air.

The Model 40002FMS STREAM VAC® is a versatile and affordable compact air cleaning system for the removal of fumes, dust and other air pollution from workstations without the need for heavy and bulky machinery. When hooked up to a 2" hose up to 10 feet (3 meters) and connected to a compressed air line, it will remove up to several hundred cubic feet of air while using only a minimal amount of compressed air, taking with it welding and soldering fumes, particulate from local grinding operations, smoke and particulate from almost any "spot" application

Features / Advantages

No moving parts.
Driven by air Not electricity.
Compact and Portable – easy to install.
Maintenance Free
Safe – No Electricity
Easy Installation
Portable

Videos

How The Stream Vac® Extractor Works

It is best used at any workbench location with a base that will support the strong magnetic "swivel" base (A) for a flexible position of the system. Compressed air is piped in at point (B) on the air amplifier (which is also adjustable to control the suction). Fumes, smoke and particulate enter at (C) and a 2" hose (Customer supplied) at (D) takes the material to a safe location. Three different suction attachments are available. Manual shutoff valve included.

Performance

| | |
| --- | --- |
| Flow Rate @ 80 psig (5.5 bar) | 20 scfm 567 slpm |
| Inlet Size | 3/8 in. NPT |
| Air Removal Rate | Up to several hundred cubic feet |

Dimensions