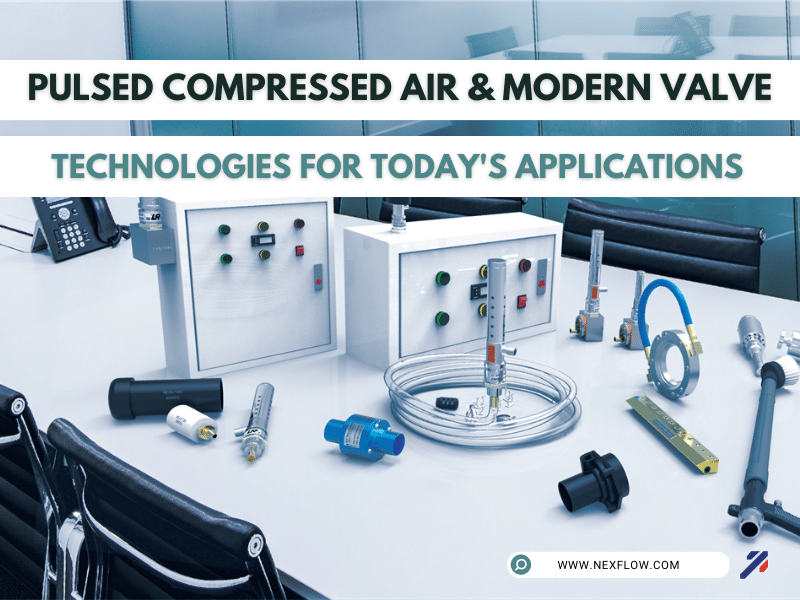 Pulsed Compressed Air and Modern Valve Technologies for Today's Applications
Pulsed Compressed Air & Modern Valve. Technologies. Compressed air serves many industrial uses, like blow-off, cooling, and cleaning. Solenoid valves once introduced the method of pulsing air. This means releasing it in short bursts instead of a continuous flow. This approach has both pros and cons.
Benefits of Pulsed Compressed Air:
Energy Savings: Pulsing uses less air, saving energy costs.
Effective Cleaning: Bursts can shake off particles better.
Reduced Noise: Pulsing is quieter.
Extended Equipment Life: Less use means less wear.
Less Moisture: Fewer moisture problems.
Safety: It exposes us to less force.
Drawbacks of Pulsed Compressed Air:
Cleaning Concerns: Pulsing might miss some debris.
Control Issues: It might need advanced controls.
Response Delays: It might not deliver force immediately.
Possible Wear: Starting and stopping might wear it out.
System Sensitivity: Pressure changes can be tricky.
Air Quality: There's a contamination risk.
Often, incorrect installation happens due to insufficient knowledge. Consequently, this can lead to issues like reduced force or unexpected air consumption. These challenges, in turn, could slow the adoption of pulsing. Moreover, while many focus on air savings, it's worth noting that other methods can offer similar benefits. Therefore, pulsing should be chosen based on its advantage over constant flow. However, in the right situation, pulsing offers several distinct benefits.
Beyond just the method of air delivery, there are innovations. Traditional tools like solenoid valves now have advanced alternatives.
Modern Valves for Pulse Applications:
Piezoelectric Valves:

Pros: Quick switches, energy-efficient, and durable.
Cons: Pricier and more complex.

Proportional Valves:

Pros: Precise control and versatile.
Cons: Complex and costly.

Fast Switching Valves:

Pros: Swift and reliable.
Cons: Not as versatile.

Smart Valves with Sensors:

Pros: Real-time data and improved control.
Cons: Complex and more expensive.

Magnetic Valves:

Pros: Durable and quick responses.
Cons: Uses power continuously.
These new tools tackle the maintenance issues of old valves. Also, they can be more expensive initially. Thus, the key is to ensure pulsing is productive for your needs. Expert advice, like from Nex Flow, can help.
Pulsed Compressed Air and Modern Valve Technologies Conclusion:
As industries grow, so do their tools and methods. Using pulsed compressed air and new valve technologies highlights the push for efficiency and safety. Both the pulsing method and valve choice aim for best results with fewer resources.
Decision-makers must weigh these methods and technologies against their specific needs. This exciting crossroad of innovation and application offers many solutions.
Nex Flow provides consultations to help you find the best approach for your compressed air needs.