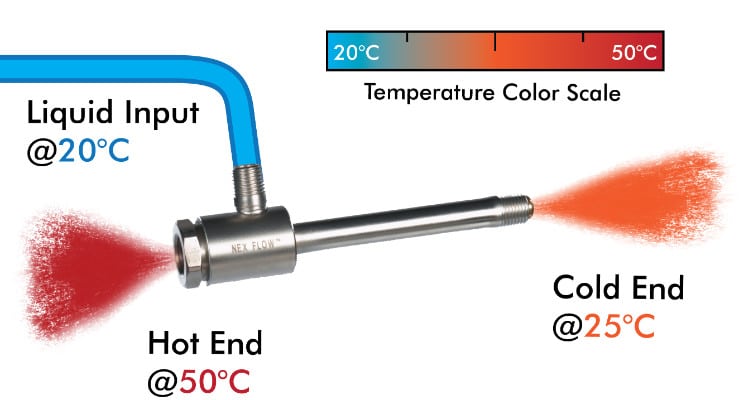 This question comes up occasionally and surprisingly the answer is yes, but not like how you may think. One explanation put forward is that this happens because normally a liquid used has a vapor pressure. You reduce the hydrostatic pressure below this vapor pressure in the center of the vortex tube causing the fluid to flash and form a vapor bubble along the central axis in the vortex. However, this bubble will collapse as it exists the cold end. If there is any temperature difference at all, it may be hardly measurable.
Tests that actually have been done show that a temperature difference can be created using liquid instead of gas but, it will heat up, not cool.
R.T. Balmer did experiments with water as a working fluid in a vortex tube [R. T. Balmer, ASME J. Fluid Eng.110, 161 (1988)]. The water inlet water temperature was about 20 degrees C, and the hot end got as high as 50 C, while the cold side achieved a temperature of 25 C (Still heated up!).
So using a vortex tube with liquids for heating may have some potential as yet to be identified…… maybe!
FEATURED PRODUCTS
Nex Flow Air Products Corp. manufactures vortex tubes using compressed air and have done special designs using other gases for special applications. They are one of few companies today that continue to do extensive research into vortex tubes. Nex Flow welcomes inquiries into possible new applications.