Static Eliminator Bar
Static Eliminator Bars are a powerful and rugged piece of equipment.
| | |
| --- | --- |
| Weight | 0.5 kg |
| Model | Haug Model RN Static Bar, Haug Model VS Static Bar |
| Size | 4" (3" Air Knife), 7" (6" Air Knife), 9" (9" Air Knife), 10" (9" Air Knife), 13" (12" Air Knife), 16" (15" Air Knife), 19" (18" Air Knife), 25" (24" Air Knife), 31" (30" Air Knife), 37" (36" Air Knife), 43" (42" Air Knife), 49" (48" Air Knife), 55" (54" Air Knife), 61" (two 30" Air Knives), 67" (36" + 30" Air Knife), 73" (two 36" Air Knives), 79" (42"+ 36" Air Knife), 85" (two 42" Air Knives) |
Static Eliminator Bars
HAUG RN Static Bar
The HAUG RN ionizing bars are a powerful and rugged piece of equipment. Its construction satisfies all technical requirements. Also, it has repeatedly proven its value in removing electrostatic charges during the roll, sheet, and web (continuous product) processing. 
Production interfering surface charges can be dismissed reliably and effectively, even at high operating speeds.
The coaxial high-voltage plug-and-socket connection of the HAUG system X-2000 offers a unique advantage connecting the gastight high-voltage plug. 
This can be connected to the HAUG power pack easily and without tools. The flexible, coaxially shielded cable connects the ionizing unit with the voltage supply.
The round construction of the RN ionizing bars permits the exact axial adjustment in the direction of travel of the material. The ionizing bars are safe to touch. 
Special wear-resistant electrodes guarantee long service life.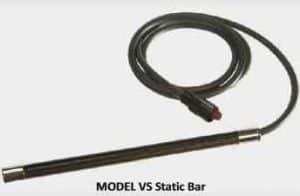 HAUG VS Static Bar
The HAUG VS ionizing bar reliably removes electrostatic charges, and its performance is three times the power compared to the standard version.
Remember that this tremendously improves static removal and is designed to address high charges, faster speeds, and greater distances.
The VS ionizing bar has typical features that characterize HAUG ionizing bars. Because of the reliable and removable plug-and-socket connection, System X-2000
Also, it shields high-voltage cables, special stainless-steel electrodes, and the convenience of being safe to touch.
The electrical capacity of the VS ionizing bar is three times as great as the standard version. Therefore, it is necessary to base any power pack load calculations on a bar length of three times as long.
Static Eliminator Bars Example:
VS static bar 50 cm with 200 cm cable
Power pack load: 3 x 50 cm + 200 cm = 350 cm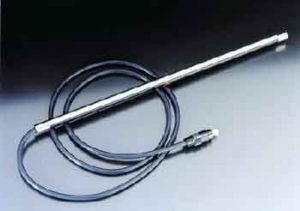 Explosion Proof Static Bars
Units for areas with potentially explosive atmospheres (ex-zone)
For many years, HAUG has been a competent manufacturer of ionizing units approved for equipment in areas with potentially explosive atmospheres. Intending these to eliminate unwanted electrostatic charges in areas where hazardous gases, such as paint plants or printing machines, may form.
Industries
Graphical industry:

 Screen, tampon and offset printing machines, etc.

Paint shops:

 automotive paint applications, painting of plastic parts, etc.
Ionizing bars EI Ex T
The ionizing bars EI Ex T design complies with the International ATEX directivities. Combined with the power pack EN 92 Ex or Multistate Ex, it is suitable for manufacturing locations with potentially explosive atmospheres resulting from gases of explosion group IIA, temperature classes T4 to T6.
Further bar variations are available.`
These static bars can also be provided with a high-voltage connection at the end of the bars for a series connection of ionizing units (daisy-chain units end to end.
Or without an HV-cable, suitable for connection of a flexible, separate high-voltage cable with elbows or tees, a variety of systems. 
Thus, minimizing the need for excessive cable and extra power supplies is a significant advantage over competitive systems, like n halo blow-offs for paint lines where several static bars with air blades can be connected end to end.
Static Eliminator Bars Recommendation
We use HAUG ionizing bars with machines in the packaging, film, printing, and textile industries. Also, as well as many other industrial applications. 
Two ionizing bars should be installed above and below the material web.
The RN ionizing bars are suitable for feed speeds = 100 m/min.
SKU
Model
Size
13006
Haug Model RN Static Bar
7" (6" Air Knife)
13009
Haug Model RN Static Bar
10" (9" Air Knife)
13012
Haug Model RN Static Bar
13" (12" Air Knife)
13015
Haug Model RN Static Bar
16" (15" Air Knife)
13018
Haug Model RN Static Bar
19" (18" Air Knife)
13024
Haug Model RN Static Bar
25" (24" Air Knife)
13030
Haug Model RN Static Bar
31" (30" Air Knife)
13036
Haug Model RN Static Bar
37" (36" Air Knife)
13042
Haug Model RN Static Bar
43" (42" Air Knife)
13048
Haug Model RN Static Bar
49" (48" Air Knife)
13054
Haug Model RN Static Bar
55" (54" Air Knife)
13060
Haug Model RN Static Bar
61" (two 30" Air Knives)
13066
Haug Model RN Static Bar
67" (36" + 30" Air Knife)
13072
Haug Model RN Static Bar
73" (two 36" Air Knives)
13078
Haug Model RN Static Bar
79" (42"+ 36" Air Knife)
13084
Haug Model RN Static Bar
85" (two 42" Air Knives)
14006
Haug Model VS Static Bar
7" (6" Air Knife)
14009
Haug Model VS Static Bar
9" (9" Air Knife)
14012
Haug Model VS Static Bar
13" (12" Air Knife)
14015
Haug Model VS Static Bar
16" (15" Air Knife)
14018
Haug Model VS Static Bar
19" (18" Air Knife)
14024
Haug Model VS Static Bar
25" (24" Air Knife)
14030
Haug Model VS Static Bar
31" (30" Air Knife)
14036
Haug Model VS Static Bar
37" (36" Air Knife)
14042
Haug Model VS Static Bar
43" (42" Air Knife)
14048
Haug Model VS Static Bar
49" (48" Air Knife)
14054
Haug Model VS Static Bar
55" (54" Air Knife)
14060
Haug Model VS Static Bar
61" (two 30" Air Knives)
14066
Haug Model VS Static Bar
67" (36" + 30" Air Knife)
14072
Haug Model VS Static Bar
73" (two 36" Air Knives)
14078
Haug Model VS Static Bar
79" (42"+ 36" Air Knife)
14084
Haug Model VS Static Bar
85" (two 42" Air Knives)