Tool Cooling System
Replaces polluting and often toxic mist systems to improve dry machining operations
| | |
| --- | --- |
| Weight | 1.4 kg |
| Size | 15 SCFM, 25 SCFM, 30 SCFM, 40 SCFM |
| Accessories | Tool Cooler Only, Tool Cooler Plus Filter with Manual Drain and Single Point Hose Kit, Tool Cooler Plus Filter with Manual Drain and Dual Point Hose Kit, Tool Cooler Plus Filter with Auto Drain and Single Point Hose Kit, Tool Cooler Plus Filter with Auto Drain and Dual Point Hose Kit |
Tool Cooling System
All Metal Parts, Stainless Steel Body, Quiet – Under 70dBA, Tests Show Frigid-X® Constantly Quieter Than Competition!
Frigid-X® Tool Cooling System for dry machining applications – replaces polluting and often toxic mist systems to improve dry machining operations. No mess, no residue, and low cost.
Tool Cooling System
Efficient
Can improve dry machining operations
Assist in spot cooling applications for various industrial machining processes
Increases matching rates
extends tool life
Produces cold air at approximately 50º F (28º C) below the supply air temperature. The unit is muffled for quiet operation. No moving parts assure long, maintenance-free operation while extending tool life and improving production rates.
Tool Cooling System can often replace costly mist coolants and improves the quality and output of all types of dry machining operations, from metals to plastics. Unit is low cost, no electricity with no moving parts, and is essentially maintenance free.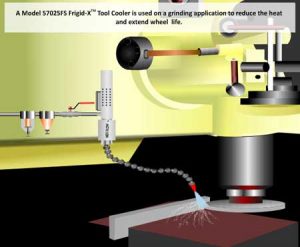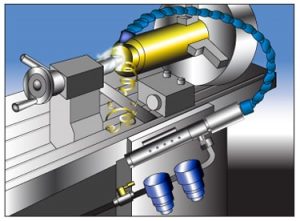 Model 57015FS
Model 57015FD
Includes: Tool Cooler, Single Point Hose Kit, 3/8″
(10mm) Cone Nozzle, 1 1/4″ (32mm) Fan Nozzle,
Filter With Manual Drain
Includes: Tool Cooler, Dual Point Hose Kit, Two (2) 1/4″ (6mm) Cone Nozzle, 1″ (25.4mm) Fan Nozzle, Filter With Manual Drain
Model 57025FS, 57030FS, 57040FS
Model 57025FD, 57030FD, 57040FD
Includes: Tool Cooler, Single Point Hose Kit, 3/8″ (10mm) Cone Nozzle, 1 1/4″ (32mm) Fan Nozzle, Filter With Automatic Drain
Includes: Tool Cooler, Dual Point Hose Kit, Two (2) 1/4″ (6mm) Cone Nozzle, 1″ (25.4mm) Fan Nozzle, Filter With Automatic Drain
SKU
Size
Accessories
56015F
15 SCFM
Tool Cooler Only
56025F
25 SCFM
Tool Cooler Only
56030F
30 SCFM
Tool Cooler Only
56040F
40 SCFM
Tool Cooler Only
57015FS
15 SCFM
Tool Cooler Plus Filter with Manual Drain and Single Point Hose Kit
57015FD
15 SCFM
Tool Cooler Plus Filter with Manual Drain and Dual Point Hose Kit
57025FS
25 SCFM
Tool Cooler Plus Filter with Auto Drain and Single Point Hose Kit
57025FD
25 SCFM
Tool Cooler Plus Filter with Auto Drain and Dual Point Hose Kit
57030FS
30 SCFM
Tool Cooler Plus Filter with Auto Drain and Single Point Hose Kit
57030FD
30 SCFM
Tool Cooler Plus Filter with Auto Drain and Dual Point Hose Kit
57040FS
40 SCFM
Tool Cooler Plus Filter with Auto Drain and Single Point Hose Kit
57040FD
40 SCFM
Tool Cooler Plus Filter with Auto Drain and Dual Point Hose Kit