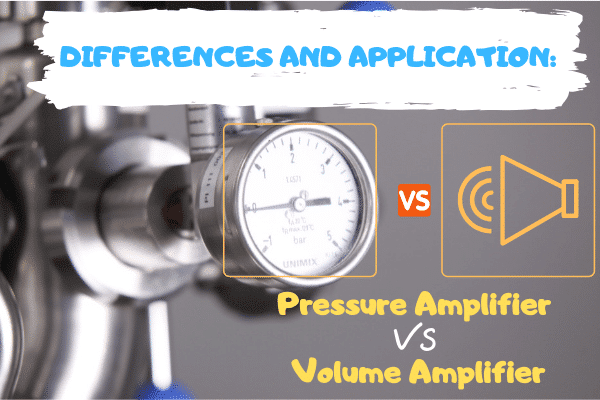 Pressure and Volume amplifier differences
Differences and Application: Pressure Amplifier VS Volume Amplifier
Sometimes when promoting our air amplifiers there is confusion as to whether it is an air "flow" amplifier or an air "pressure" amplifier.
Pressure Amplifiers
Air pressure amplifiers are also known as air boosters and air intensifiers and are used for increasing or boosting existing plant air pressures. Each pressure amplifier comprises a spool valve that acts as a 4-way directional control valve. The single acting compressed air boosters displace air once per full cycle.   Regular plant air, normally at a range of 80 psig to 100 psig (5.5 bar to 6 bar) is supplied to this spool valve, which automatically cycles back and forth. The plant air fed into the spool valve is alternately directed, as the spool cycles to a main air drive piston in the air drive cylinder. This makes the piston cycle back and forth in the pressure multiplier.
The unit also has a high pressure section where the air to be pressurized is supplied. The air flows into the booster's pressure chamber on the suction stroke through inlet check valves. It is then compressed out of the chamber on the discharge stroke through the outlet check valve. The reciprocating movement of the air drive section, connected directly to the high pressure section, creates a positive displacement of air through the inlet and outlet check valve.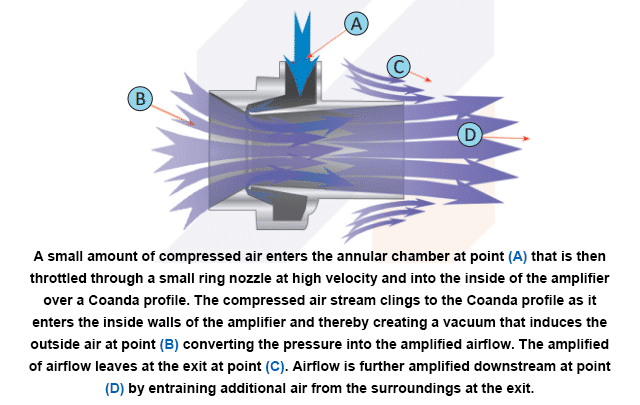 Single and double acting high pressure booster models are available on the market. The single acting compressed air boosters displace air once per full cycle. The double acting high pressure air booster will displace air at every stroke, or twice per cycle, providing higher and more constant flows. Depending on the application pressures as high as 5000 psig can be produced.
These pneumatic air pressure amplifiers can sometimes be installed in different positions. All connections to the pressure amplifier must be equal to or greater than the inlet and outlet connection ports to prevent starving of the booster.
Nex Flow Air Products Corp. does NOT supply air pressure amplifiers.  They supply air flow amplifiers.
Flow Amplifiers
Rather than being a system of vessels, valves and cylinders, air flow amplifiers are an assembled series of parts that normally work on the coanda effect, although they can also utilize a venturi effect if less air flow amplification is required. The air flow amplifiers that utilize the coanda effect are both energy savers and noise reducers because they basically convert pressure "drop" and "noise" losses into flow.  These systems are all based on aerodynamic shape to minimize losses and can "amplify" flow as much as 16 times inlet air or more depending on the size of the unit. The larger the unit assembly, the greater the air flow "amplification" or "air movement".  Air flow amplifiers are sometimes called "air movers" because they can move large volumes of air or gas.  However, while they can move a large volume of air or gas, the vacuum produced is less.  If a larger vacuum is required then the venture effect is used.  In this case the shape and assembly does not use the coanda effect bur relies on a different means to entrain air or gas.  With this system you obtain a much higher vacuum but air flow amplification is limited to 5 or 6 times the input air volume.
Nex Flow manufactures both a coanda and a venturi version for air flow amplification. The coanda unit is available in two versions: the fixed X-stream Air Amplifiers work on the coanda effect and the compressed air exit gaps are controlled using stainless steel shims.  This gap can be changed by adding shims to open the gap for more air flow and therefore can "move" proportionately more volume. An adjustable version is available so you can "set" the gap to control the amount of compressed air used.
The venturi version from Nex Flow is called a Ring Vac. The units are primarily used for conveying materials as vacuum is more important for these applications. This device consists of a plenum "generator" with holes to discharge the compressed air into the direction if flow. This creates a vacuum behind the flow of air to entrain the atmospheric air. Its construction allows it to make the higher vacuum. A special XSPC version is available, which has the ring of air for the compressed air angled toward the direction of flow around the inside wall of the unit. This design is used when the material conveyed could possibly clog the Ring Vac design.
Pressure Amplifier Applications:
In Automotive manufacturing, air pressure amplifiers are used to provide higher air pressures for use with Robotics in such areas as Paint Booths, even for heavy blow off and cleaning as in welding spots, and for charging air cushions on presses on stamping presses in the body plants. They also provide assistance in procedures such as punching, riveting, and trimming with extra pressure. Other manufacturing and testing applications that have benefitted from Air Pressure Amplifiers are the manufacture and assembly of Brake pads, pressure testing of steering hoses, radiators and radiator hoses, air conditioning condensers, cooling and refrigerant tubing and systems. Air Pressure Amplifiers are also used in automotive repair and tire shops where higher air pressures may be required. Other applications within the automotive industry include the manufacture and testing of Airbags.
These pressure boosters are also used in the oil and gas industry for boosting gas pressures for pressure testing of vessels. Centrifugal compressors equipped with dry gas seals use the process gas as a seal gas. During normal operation, the compression of the gas generates heat, pressure and flow to the seal, preventing contamination and condensation. During start up or shut down, however, these conditions are not met and the seal is at risk of contamination specifically from heavy condensate.  Air Pressure Amplifiers are used as dry seal gas boosters to ensure that seals are pressurized with dry gas during start up and shut down.
Other common applications for Air Pressure Amplifiers in general manufacturing are as follows:
Leak detection
Pressure testing
Increase pressure to air drying
Increase pressure to nitrogen generators
High pressure tire filling
Increase force from pneumatic valve actuators
Increase force from pneumatic cylinders
Increase force from pneumatic presses
Maintain pressure on inkjet printers for labeling
Increase holding power of pneumatic chucks
Increase pressure for products packaging
Increase force for pigging paint and syrup lines
Increase pressure on sandblasting equipment
Increase force of pneumatic springs
Increase force of pneumatic lift tables
Increase force of pneumatic shears
Railroad brake testing
Unloading railroad cars using pressure
Shield gas for plasma and laser cutters
Increase pressure from pneumatic gas boosters
Increase pressure from pneumatic piston pumps
Increase pressure from pneumatic diaphragm pumps
Increase force from ejection pins on plastic molds
Blow Molding
FEATURED PRODUCTS
Flow Amplifier Application:
Air Flow Amplifiers or Air Movers like the fixed and Adjustable Air Amplifiers are much simpler devices with lower costs. For Coanda type units, applications include:
Venting welding smoke
Conveying light materials
Trim Removal in paper, film and foil processes if material is light and/or distances are short
Drying of machine parts
Cooling of Parts
Cleaning of machined parts
To Isothermalize or re-distribute heat in molds and ovens
Ventilate tanks and other confined areas
Dust collection
Exhaust tank fumes

In these applications they are superior to using other devices like fans because they are compact, portable and lightweight.  They have no moving parts, no electricity, no maintenance, are easily ducted and simple in design.  Unlike fans they can be instant on and off and you can vary the force and vacuum.
Cooling of parts with Air Flow Amplifiers is especially advantageous over fans because there is no heat generated and the high velocity laminar flow cuts through the boundary layer on a hot part to remove the heat.  They can cool 10% faster that a fan to be able to increase throughput and with a much smaller footprint, with no maintenance. Cooling castings is a major application for air flow amplifiers using the coanda effect.
Venturi units like the Nex Flow Ring Vacs and XSPC units are used where vacuum is more important than the volume amplified.
Hopper loading of plastic resin, caps, small parts
Conveying of material
Trim removal and waste in paper, film and foil for a wide range of weight and distances
Transferring parts
Chip Removal
Filling Operations
Tensioning of fiber

The units are compact, with no moving parts, simple in design with high throughput because of higher vacuum.
And of course, Air Flow Amplifiers of both types are low in cost, easy to maintain and last for years.