Product Overview
Easy Grip Safety Air Guns Nex Flow
Nex Flow® offers two versions of a standard trigger style compressed air gun – the Easy Grip Air Gun made of aluminum and the Easy Grip Light Air Gun made of strong plastic.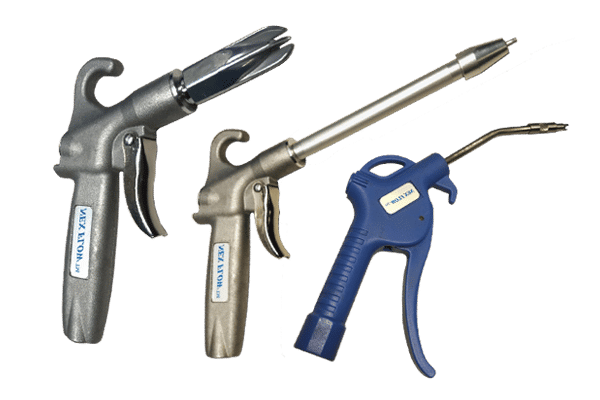 The standard Easy Grip Air Gun is made of aluminum and is the most flexible for use. A full range of air nozzles and air jets may be fitted to these air guns with the option of adding extensions of various lengths, and even swivels to add at the tip of the gun or extension to direct the air nozzle into hard to get areas.
Virtually any of the ¼" male or female air nozzles may be attached to the system as well as the Air Edger Flat Jet and small air knives and air jets.
The Easy Grip Light Air Gun is made of string plastic and utilizes the Nex Flow 6 mm Model 47002AMS Air Mag Nozzle.
Lightweight and comfortable to use, the small nozzle allows for small targeted blow off applications.
Contoured body fits comfortably in the operators hand and made to protect the palm of the hand against the connection fittings • Curved tip 5″ long • 1/4 " (F) – 18 NPT Air Inlet
Features / Advantages
less exhaust noise
safe – meets OSHA standards of dead end pressure being under 30 PSIG
rugged/well built to last
ergonometric
light weight
ideal for all types of manual blow off applications
extensions and swivels may be added to the standard Easy Grip Air Gun
Easy Grip Light Air Gun lightweight for small targeted blow off applications
Easy Grip Safety Air Guns Nex Flow
Dimensions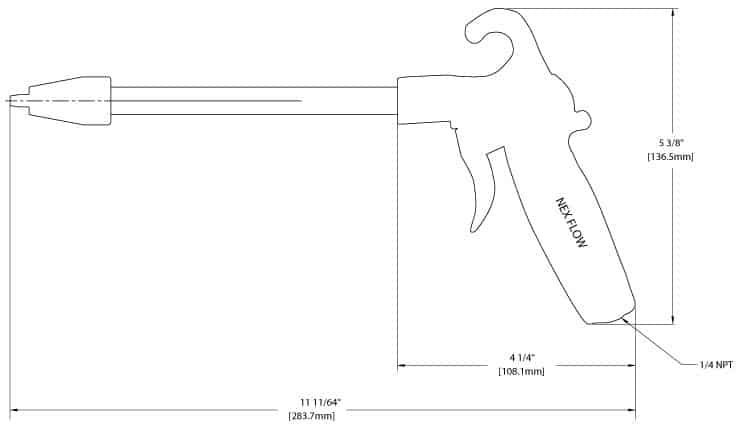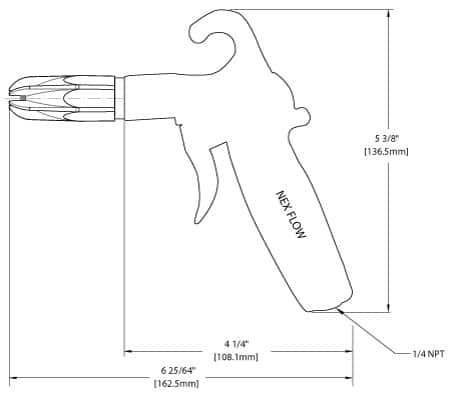 Easy Grip "Light" Air Gun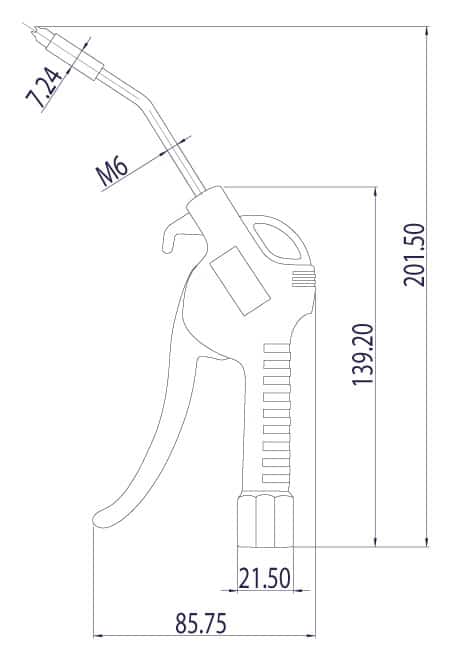 Product Overview

Easy Grip Safety Air Guns Nex Flow

Nex Flow® offers two versions of a standard trigger style compressed air gun – the Easy Grip Air Gun made of aluminum and the Easy Grip Light Air Gun made of strong plastic.

The standard Easy Grip Air Gun is made of aluminum and is the most flexible for use. A full range of air nozzles and air jets may be fitted to these air guns with the option of adding extensions of various lengths, and even swivels to add at the tip of the gun or extension to direct the air nozzle into hard to get areas.

Virtually any of the ¼" male or female air nozzles may be attached to the system as well as the Air Edger Flat Jet and small air knives and air jets.

The Easy Grip Light Air Gun is made of string plastic and utilizes the Nex Flow 6 mm Model 47002AMS Air Mag Nozzle.

Lightweight and comfortable to use, the small nozzle allows for small targeted blow off applications.

Contoured body fits comfortably in the operators hand and made to protect the palm of the hand against the connection fittings • Curved tip 5″ long • 1/4 " (F) – 18 NPT Air Inlet

Features / Advantages

less exhaust noise
safe – meets OSHA standards of dead end pressure being under 30 PSIG
rugged/well built to last
ergonometric
light weight
ideal for all types of manual blow off applications
extensions and swivels may be added to the standard Easy Grip Air Gun
Easy Grip Light Air Gun lightweight for small targeted blow off applications

Easy Grip Safety Air Guns Nex Flow

Dimensions

Easy Grip "Light" Air Gun